CLUBHOUSE THE BUNKER EATERY PRO-SHOP GOLF FACILITIES LATEST NEWS
As we enter our third week of the Stage 2 Restrictions we would like to take this opportunity to thank our members and guests for adapting to the changes introduced by the NSW and Federal Government to keep us all safe.
To recap, the following MUST be adhered to so that Bardwell Valley Golf Course may remain open for our members and guests to continue getting their regular golfing exercise:
Pro-Shop – only 1 person (other than staff) permitted entry at a time
At all times maintain at least 1.5m social distancing
Play may only be as an individual or in PAIRS (i.e. only 2 people)
Carts – Only 1 person may use/ride in a cart
Take-away beer may be purchased at half-way ONLY
Once you complete your round of golf & return your score to the ProShop – please LEAVE the premises, no gathering/lingering permitted
Please wash your hands regularly with soap and carry sanitizer or disinfectant wipes with you wherever possible to wipe down surfaces.
GOLF COURSE – OPEN
PROSHOP – OPEN
THE BUNKER EATERY OPEN – TAKEAWAY ONLY
Saturday BBQ 8:30 – 11:00am Saturday Lunch 11am – 3:00pm
CLUBHOUSE – CLOSED
PENDING EVENTS – NOTICE*
All temporarily suspended until further notice
Wednesdays Darts & Euchre Temporarily suspended
Meat Tray Raffles Temporarily suspended
Friday Trivia Nights Temporarily suspended
EASTER CUP 2020
Thank you to Wendy Prideaux and Valerie Leicht for sponsoring this year's Easter Cup – very generously donating a $100 gift voucher for each of the Men's and Women's winners. With an overall field of 118 individual players across the 5 days of play (Thursday 9 – Monday 13 April) it was a very successful event and thank you to everyone who participated and maintained their social distancing.
Congratulations to our winners this year :
Men's Winner Ian Soares – total 109 (4 games, best 3 scores 31, 41 & 37)
Women's Winner Janet Rowlands – total 103 (3 games, best 3 scores 34, 35 & 34)
COVID-19 UPDATE
GOLF CARTS – Carts are currently permitted, however only ONE PERSON per cart – no sharing. Persons who violate this rule will be asked to leave the course immediately and further access prohibited. All carts will be wiped down and sanitized after use.
COMPETITIONS – All competition until further notice will be as Single Stablefore, ie no pairs or group events. All Club Championships and Major Events have been postponed until further notice.
SCORE CARDS – Per the guidelines by Golf Australia, players are to mark their own card as well as keep your partner's score and at completion of play confer to confirm results to minimise handling. Results are then to be notified to the ProShop for processing.
FLAGSTICKS & BUNKERS – Please avoid touching flagsticks (ie leave in place). All bunker rakes have been removed so please treat bunkers as GUR and place ball should you be in a divot and after play, smooth area using your club or shoe.
CLUBHOUSE – is closed until further notice. All Bar, in-house dining, Keno, Poker Machines and ATM facilities are suspended until further notice. Toilet facilities only are accessible via the Mens & Ladies Locker Rooms.
THE BUNKER EATERY – is open for limited TAKEAWAY service only. Please note the changed hours and revised menu options available.
COURSE & PRO-SHOP – Currently the course is open for both social and members' competition as usual. The Pro-Shop is currently open however access is limited to ONE PERSON AT A TIME to maintain social distancing.
WASH YOUR HANDS WITH SOAP MAINTAIN AT LEAST A 1.5M DISTANCE NO HUGS, KISSES OR HANDSHAKES
THE BUNKER EATERY
The Bunker Eatery is currently operating a TAKEAWAY service only, Revised trading days/hours and current menu options are listed below:
Saturday Morning BBQ – 8:30 to 11:00am
Saturday Lunch – 11:30am – 3:00pm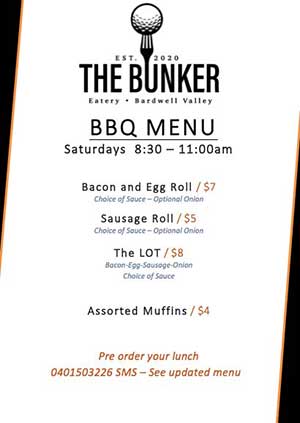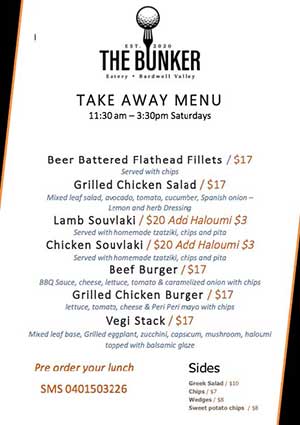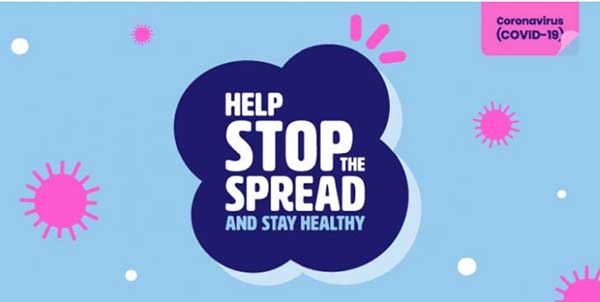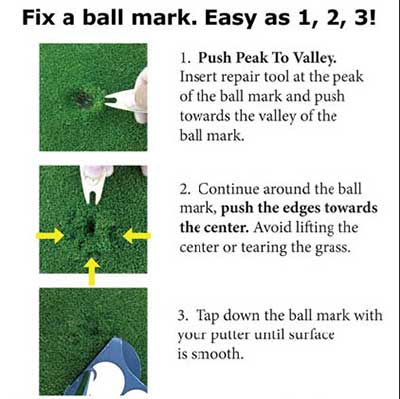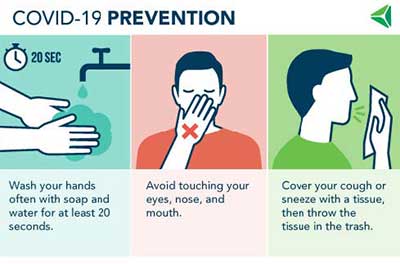 ON THE GREEN
REPAIR YOUR OWN PITCH MARK PLUS ONE OTHER
WHEN PRACTICING Please only use 3 balls maximum – plus carry and use YOUR OWN sand bucket!
ON THE FAIRWAY
FILL IN YOUR DIVOT PLUS ONE OTHER USING YOUR OWN SAND BUCKET
PLEASE HELP US TO HELP YOU
WE WILL GET THROUGH THESE UNCERTAIN TIMES AND EMERGE EITHER LATE 2020 OR EARLY 2021 ALL THE STRONGER.