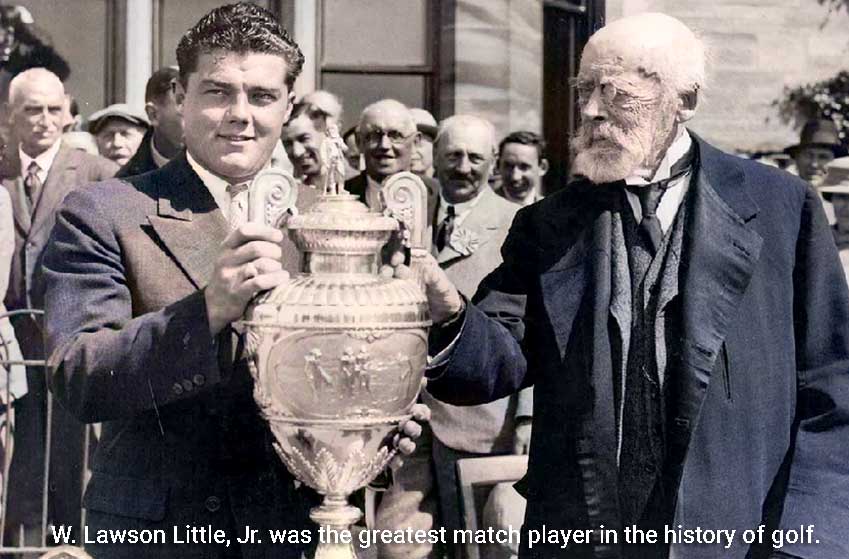 LAWSON LITTLE – WORLD GOLF HALL OF FAME: YEAR INDUCTED: 2004
W. Lawson Little, Jr. was the greatest match player in the history of golf.
Little was born in Newport, Rhode Island in June 1910. He emerged on the golfing scene at the 1929 U.S. Amateur at Pebble Beach, where he defeated Johnny Goodman the day after Goodman defeated Bobby Jones. By the time he arrived at Stanford in 1930, Lawson was already an accomplished competitor; among his eight amateur titles are the 1928 and 1930 Northern California Amateur. Lawson majored in Economics at Stanford and belonged to the Chi Phi fraternity. A teammate of Charlie Seaver, he was a letter winner in 1933 and 1934. Time Magazine described Lawson as "a burly 23-year old Stanford junior" when he won the 1934 British Amateur. He did not lose a single hole in the final match, defeating James Wallace 14 and 13. In addition to the British and U.S. Amateur titles, while at Stanford Little won the 1932 Broadmoor Invitational and the 1933 Colorado Closed Amateur.
Lawson left Stanford in the fall of 1935. He turned professional in April 1936, and was among the first professionals to earn substantial endorsements. He won eight professional titles, including the 1940 U.S. Open in a playoff over Gene Sarazen. He tied for 3rd in the 1939 Masters (photo at left). He is one of only 11 golfers to win both the U.S. Amateur and U.S. Open, placing him among such greats as Bobby Jones, Arnold Palmer, Jack Nicklaus and Tiger Woods.
He once said "It is impossible to outplay an opponent you cannot out-think." He had a fine short game to complement his long drives, and was known to carry as many as seven wedges. He also carried as many as 26 total clubs, and the 14 club limit adopted by the USGA in 1938 is generally attributed to the practice of certain golfers, most notably Little, of carrying a large number of clubs.
In 1936, he turned professional and promptly won the 1936 Canadian Open by shooting a tournament record 271. But the PGA of America had a rule back then, which said you had to have worked in a golf shop for five years in order to qualify to play on the PGA tour, thus Little could not play the P.G.A tour.
Bernard Darwin called Lawson Little's 14-and-13 victory in the 1934Amateur Championship, "one of the most terrific exhibitions in all golfing history." In the long history of golf there have been three instances of sustained brilliance. Two are immediately obvious-Bobby Jones' Grand Slam and Ben Hogan's magical 1953 campaign. Although it is rarely remembered, Lawson Little may have topped them both.
In 1934 and 1935 Little became the first golfer to sweep the British and American Amateur Championships in consecutive years, two "Little Slams" as the pundits of the day referred to them. During his phenomenal run, Little won 32 consecutive matches on both sides of the Atlantic with an overpowering game built on booming drives and brooding intensity. It is a testament to Little's awesome dominance that he followed with a professional career that included seven victories and a U.S. Open title, and it was considered a failure. Wrote Charles Price, "Lawson Little was the greatest match player in the history of golf."
Professional Majors:
U.S. Open: 1940
Other Significant Victories: PGA TOUR: 7
1936: Canadian Open
1937: Shawnee Open, San Francisco Open Match Play
1940: Los Angeles Open
1941: Texas Open
1942: Inverness Four-Ball
1948: St. Petersburg Open Invitational
Other Wins:
1928: Northern California Amateur
1930: Northern California Amateur
1932: Broadmoor Invitational
1933: Colorado Closed Amateur
1934: U.S. Amateur, The Amateur Championship
1935: U.S. Amateur, The Amateur Championship
Other Accomplishments:
Walker Cup: 1934
Born in Newport, R. I., in 1910 and raised in Northern California, Little burst onto the scene at Pebble Beach in the 1929 U.S. Amateur when he defeated Johnny Goodman the day after Goodman had electrified the golf world by beating the unbeatable Bobby Jones. Five years later, at the British Amateur at Prestwick, the 24-year-old with the senatorial mane of dark, wavy hair realized that potential. He barely broke a sweat in winning his seven consecutive matches, and in the final he gave Scot James Wallace a spanking of legendary proportions. Little shot an unofficial 66 in the morning, five better than the course record, and was 12 up by lunchtime. In the afternoon he birdied three of the first five holes and put Wallace out of his misery, 14 and 13. In the 23 holes Little had a dozen 3s on his card.
Nicknamed "Cannonball" and often described as "bullnecked and barrel-chested," the 200-pound Little generated tremendous power despite standing only 5'9″. He liked to play the ball far back off his right leg and hit an exaggerated hook. At the 1934 U.S. Amateur at The Country Club, Little again overpowered the field, taking six 18-hole matches and a pair at 36 holes including the final in which Spec Goldman succumbed, 8 and 7. Harold Hilton and Bobby Jones were (and are) the only other golfers to hold the British and American amateur titles simultaneously.
For all his strength, Little had an expert short game. He used a variety of clubs from around the green, and in fact often carried as many as seven wedges among his 26 clubs, an excess which in 1938 prompted the USGA to institute the 14-club limit.
As Little's reputation as a merciless competitor continued to mushroom, so did the estimation that he was a surly and unlikable champion. Having grown up the son of a colonel in the Army Medical Corps, bouncing from base to base across the United States and China, Little was admittedly withdrawn, but he attributed his on-course demeanour to an unparalleled concentration.
"The man who doesn't plan out every shot to the very top of his capacity for thought can't attain championship form," he said. Little also believed, "Winners hit their bad shots best."
In the spring of 1935, Little went to St. Anne's to defend his British Amateur title, and he was lucky not to lose his first match. Despite a shaky 80, he stole the match on the 18th green, and from there he took the title without incident. Little's inexorable march into the record books was completed at the Cleveland Country Club.
Little turned pro shortly thereafter, and his mediocre record was often attributed to a lack of desire that came from being among the first pros with significant endorsement money. When he defeated Gene Sarazen in a playoff to win the 1940 U.S. Open, it was a reminder of what his talents once were. With the advent of World War II, Little lost direction as the major championships were cancelled and he became more interested in the stock market than in competitive golf. "He never practiced," said Jack Burke Jr. "Little either had it that week or he didn't. But when he did have it, it was lights out."
LAWSON LITLE PASSING:
Little died in Monterey, California in February 1968. He is a charter member of the Stanford Athletic Hall of Fame and he was elected to the World Golf Hall of Fame in 1980
PEBBLE BEACH, Calif, (UPI) – Lawson Little, a member of the Professional Golfers' Association Hall of Fame, former United States Open and the U.S. and British Amateur champion, died Thursday night. He was 37.
little died in a local hospital after being stricken with a heart attack at his home. He had suffered from heart trouble for the past 11 years and in 1963 underwent brain surgery.
Little was elected to the Hall of Fame in 1961 along with Henry Picard.
Little frequently was described as the greatest amateur matchplay golfer In the history of the game. He also added some pages to professional golf record books.
Born in Newport, R.I., on June 23; 1910, Little attended Stanford University. He started playing golf when he was eight and in 1928 and 1930 won the,
Northern California Amateur championship.
In 1934 and 1935 he won both the USDA Amateur and British Amateur crowns and in 1934 as a member of the U.S. Walker Cup Team, was the winner of both his singles and foursome matches.
These wins and other national and international victories gave Little a string of 32 consecutive victories, a record that has never been broken. He joined Bobby Jones in 1935 as being the only golfers to be awarded the James E. Sullivan Award for the "outstanding amateur athlete of the year." He turned pro in 1934 and finished 20th in the Master's tourney.
He won his first pro victory when he took the Canadian Open and in 1940 he captured the USGA Open, tying with Gene Sarazen and defeating him in a playoff.
Little had exceptionally deep powers of concentration and was able to appear completely oblivious to all outside distractions while playing
a tournament round.
The story is told that during an open tourney Little was greeted by a friend as they passed each other in the clubhouse. Little looked right through his friend and continued walking. When accosted later by the same man, Little asked him how he was and when he had arrived in town. Little served as a lieutenant commander in the Navy during World War II. He was a vice president of the PGA in 1961 and chairman of the PGA tournament committee from 1950-51. Survivors include his widow Dorothy and children, Linda, 25; Twins Sandra and Sonja, 12, and W. Lawson Little III, 20.